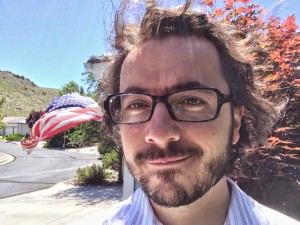 Hi, my name is Marshall Stokes. I'm a 30-something geeky American with strong family values and bottomless curiosity for technical, behavioral, financial, and ethical advancements.
As far back as I can remember business has been on my mind. My father's primary income came from a small retail store and I effectively grew up in that business. In 7th grade I invested in bulk candy and packs of gum from Costco to resell out of my locker (when your only competition is a vending machine you can succeed with a very basic business plan). I later found higher profit margins in hustling fireworks, but that was more of a seasonal gig. I have built businesses, some successful, some not. Currently leading the Uvumi Comeback campaign and providing strategic and technical consulting for a handful of inspiring businesses, I get to work alongside teams of talented, fun, like-minded individuals; geek out on tech stuff; and build seriously cutting-edge systems. I spend most of my time in my home office, which means I can see my wife and kids during breaks and meals, and still conveniently work late into the night when necessary. Life is good.
When I get the chance, I enjoy some hobbies that more-or-less relate in one way or another to my propensity to nerdyness: playing guitar; amateur photography; building, cleaning, and shooting firearms (and bird hunting when possible); and maintaining/fixing my crappy old vehicles. I'm not anywhere near expert-level with any of these activities, but I do enjoy them. My passion, though, is technical work – I love designing and building complex server clusters, playing a role on a team that builds truly amazing software, and generally just geeking out with servers and other high tech hardware.
I've owned the domain marshallstokes.com for many years (apologies to brilliant artist Marshall Stokes who's donated blood was once confused with mine when we both lived in the same small town), but only recently decided to put it to use as a personal blog. I used to do much more writing but my professional endeavors have taken over my life to such a point that I don't spend much time writing for fun, though I do plenty of technical writing and professional communication on a daily basis. This blog is my attempt to get back into writing for fun. My first post discusses my motivation behind launching this project.
If you would like to contact me, here's a list of external profiles and contact info:
And here's what you can expect from my blog in the coming months and years:
Geeky how-to guides
Nerdy product reviews
Opinions about tech stuff
Talk about digital money
Personal stories, generally with lessons-learned or some kind of moral
Whiskey reviews
The occasional photo gallery
And, in the spirit of full disclosure, when linking to products on sites like Amazon I will include my "associate" ID in an effort to earn some referral money in the event you decide to buy stuff based on my reviews, guides, or suggestions. The way I see it, Amazon is either going to pocket that extra 2-4% (which we're all paying anyway) or they're going to give it to me. So, if you'd like to help me earn some extra cash for whiskey, ammunition, diapers, or my next tech gadget, by all means use my Amazon links or the search box in the sidebar when you buy stuff on Amazon 😉